This page covers "Indian Scout" motorcycles from 1946 on, including modifieds, customized, plus pre and postwar racers
(page updated 1 March 2021)

We start this page with racers from the 1940's, scroll down for stock postwar Scout models, customs, Sammy Pierce Scouts, Floyd Clymer prototype, new Scouts etc.
Attention motorycle-related businesses: Display ads are only $75 a year. See traffic stats on 1901-53 history page of sister site IndianChiefMotorcycles
Indian Scout Racers: Roadracers
Here are photos of a cluster of Indian Scout racers (750 cc flatheads) that I saw in the paddocks at the mid-Ohio "Vintage Days" event of 2014. These were true 1940's style racers, looking crude, rough and tough and done on a small budget, probably like things were for most private racers back in the day. Note the batteries serving as side stands (racers do not come with stands). You would really think it was the 1940's at this paddock site. A time warp! Never seen anything like it. So a "shout out" and "bottoms up" to these brave and tough retro guys (2014) and those original guys (1940's).
[Click on the Thumbnail images to see large image open in a new window.]
---
Indian Scout Racers: Hillclimbers
Below is a shot, courtesy of Allan "Zippy" Lowson, of a postwar Scout hillclimber with Edison-Splitdorf magneto driven off the top of the oil pump and the usual traction chains on the rear wheel. The aluminum cast wheels suggest this was being used as late as the 1970's or later.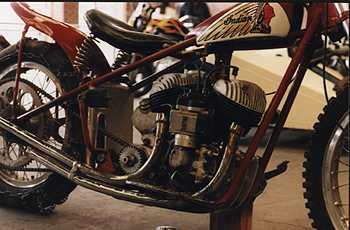 Also courtesy of Zippy is a photo of a Scout flat tracker owned by George Routelier. Note the long wheelbase.

Here is a photo from 1945 of Robert "Bob" Shanks, local Indian dealer, running his Scout in a hillclimb at Mount Douglas near Victoria, British Columbia, Canada. Notice the magneto being driven at the top rear of the primary chain case.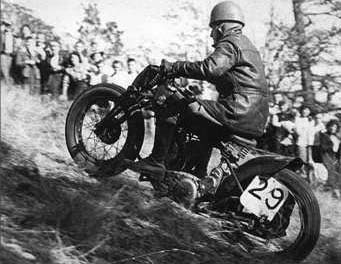 Next is the President of the "Laughing Indian Riders" club, Don Doody, competing at Mount Douglas in the 1970s or 80s.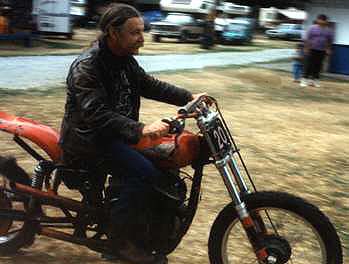 Seen at Mid-Ohio in 2014 was this retired hillclimber Scout with early leaf spring front end: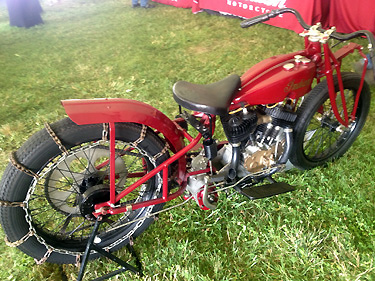 ---
Support these advertisers as they are the only thing keeping this site up.
The 1948 Big Base Scout Racers
Many Indian riders were irate that there was no V-twin flathead Scout for sale after the war. Privately owned Scouts continued to win races for many years after the war. As noted above, some privateers put Chief flywheels in to get 950 c.c. (57 CID) and a lot more power out of their racing or souped up street Scouts, and these "Chouts" are still valued today. The factory did relent somewhat in 1948, but only for racers, by producing 50 racing Scouts stamped FDH, but commonly known as the "big base Scout" or the "648 Daytona" as Daytona was where most were raced. (This proves that Indian had the ability to keep making Scouts after the war, and it was a management decision to stop just before 1949 when the "torque" models went on sale.) The model 648 big base Scouts performed extremely well in their class (Class C) and continued to win races for the next six years! In fact at various other types of races across the USA, racing Scouts continued to do well and even win up to the 1970s! Their demise was due to the Harley K model and British bikes such as the Norton, Triumph and BSA.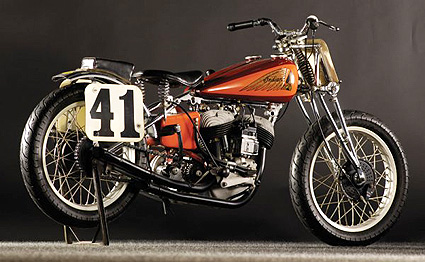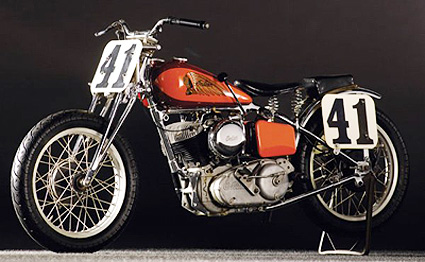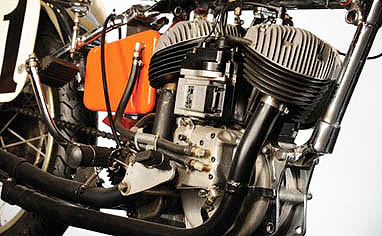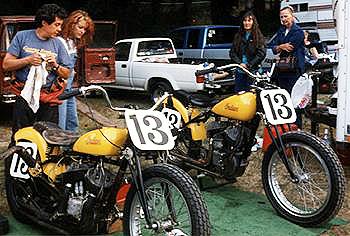 Above right is a photo of Jerry Chinn's Indian flat trackers. I think this photo was taken in the late 1990's or early 21st century. Racer number 13 is a Big base 648. Enthusiasts make reproduction crankcases and other parts for the model 648, attesting to the merits of the design. If you think an Indian 750 cc flathead is wimpy like a Harley "45" (750 flathead) you should hear these racing Scouts being warmed up in the paddocks at the annual AMA Vintage days in mid-Ohio. Music to the ears! Imagine how many more years these 648 Scouts and privately souped up Scouts could have won races if they had had a four speed footshift gearbox like the British bikes instead of the ancient 3 speed hand shifter. Of course part of the success of the V-twin Scouts was the riders who raced them: Ed Kretz, Floyd Emde, Johhnny Spiegelhoff, Ted Edwards, Art Hafer, John Greenlee, Jack Horn, Bill Huguley, Bob Holt to name just a few.
Incredibly as of 2018 a small US company is making replicas of the Big Base engine. These are brand new, no old parts, and are improved over the originals while looking identical. Maybe he will advertise here some day.
On display and not competing in the races at Mid-Ohio (2014) was this big base Scout.

Offered on Ebay in Sept. of 2014 this bike was listed as a 1941 Big Base Scout racer. However the big base engine did not appear until 1948 so maybe the owner put one in a 1941 rolling chassis? Note the Crocker style paint job on tank:



Also seen for sale was this peach and red 1941 Big Base Scout. Again, however there was no such thing in 1941, they did not come out until a few years after the end of WWII. In the photos once can see the magneto, driven off the top rear of the chaincase, indicating a Sport Scout and sitting atop the gearbox, (hence in one photo of the mill, there is no distributor atop the oil pump, just a blanked-off hole) On standard Scouts there is no magneto and the generator is driven off the front of the primary case, sitting low and in front of the motor. (See orange 1940 model further down this page.) On the stock Chief the generator is above the rear of the primary and driven by a belt. (Bonneville Chiefs had a magneto driven by gears in the timing case, and it sat where the ignition coil sits on the standard models) Frankly I am confused as to whether all Big Base scouts had the magneto atop the oil pump (as in several photos in this website) or could have altnernatively been driven off the clutch basket/sprocket Sport Scout style as in the peach and red job below). In other words is the bike below a genuine Big Base or just a Sport Scout custom racer?



In retrospect it can be argued that Indian made a big mistake by dropping the V-twin Scout. It was a popular model and its "high tech" replacement the OHV but miniscule English style Scout described and pictured below was a flop. Indian could have easily converted the 45 CID flathead Scout to 57 CID (950 cc) using Chief bottom ends, and used the military 841 frame, to keep them competitive for a few more years. Harley did not come out with its OHV sports model until 1957 (the Sportster).
---
Post War Scout / Warrior parallel twins
In 1945 with the war over, Indian gave up on the V-twin Scout as obsolete, and spent a few years and all of its money developing the OHV "Torque" series designed by Chief Engineer Briggs Weaver. The Torque series was modelled after British designs, and came onto the market in 1949. Harley also copied the British about three years after Indian tried, but Harley did not use a parallel vertical twin engine and kept to its tried and true (and popular) V-twin engine design. It brought out a new flathead 750 in 1952 (the K). Like the new OHV Indian twin sport bike, the K too was also a poor seller initially. It had gearbox problems and was far too slow to compete with the British. The gearbox was gradually improved and the engine size was upped by about 140 cc to 888 cc for the 1954 model year. As the power increased, so did sales. This KH evolved in 1957 into the OHV Sportster of 883 cc which is still a big seller.
So after WW II Indian tried to make its own version of a typical English twin (e.g. Triumph) and called it the Scout (in 1949). The engine was a parallel vertical twin (2 cyl.) OHV with British type gearbox and controls. The bike looks completely English except that for some reason the primary drive was on the right side instead of the left. However these new bikes were rushed into production for the 1949 model year (to replace the Chief which had been dropped as "obsolete" for that year) with countless problems unsolved and the new Scout only had 440 cc and was a big flop. The third reason it failed was that the relative currencies of the US dollar and British pound sterling has changed, so that English bikes were quite cheap and the Indians could not compete price-wise. Dealers were irate and the Chief was re-introduced the next year (1950). By that year most of the problems with the Scout had been solved and the engine upped to 500 cc (30 CID) and the bike renamed Warrior, but the bike had established a hopeless reputation and was still not a good price compared to Triumphs, BSA's, Nortons, Matchless, AJS, Royal Enfields, Ariels and Panthers which were being imported from Britain. The last few were made in 1952. When you see these bikes in real life they are quite small even compared to their British cousins.
Below are two shots of a maroon Scout, then (below) a stock black one with (to its right) a black chopped version (actually a rare 1950 Warrior). Underneath is a pretty yellow 1949 Scout, followed by three shots of a very rare red-orange 1952 competition model. Max Bubeck used to successfully race one of these and actor James Dean bought one. The red-orange Bubeck replica was superbly restored at great expense by British Motorbikes of North Hollywood. I have never ridden a postwar Scout or Warrior but I wonder if the location of the oil tank causes burns to the rider's left thigh on hot days?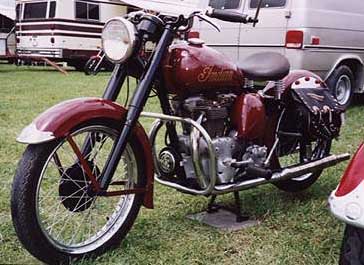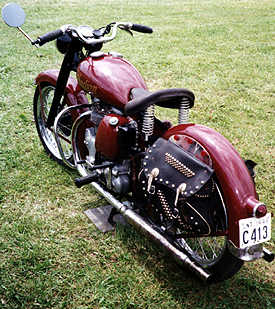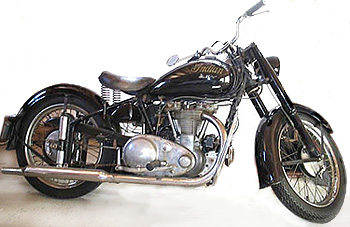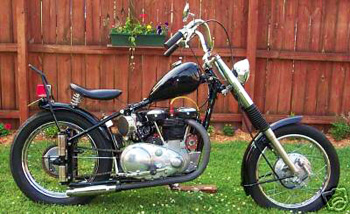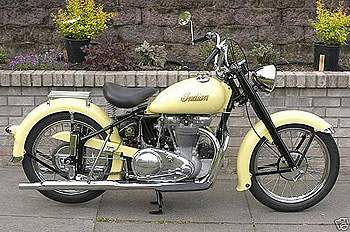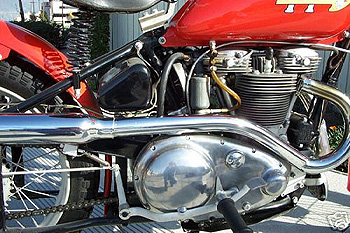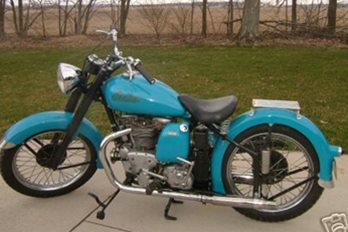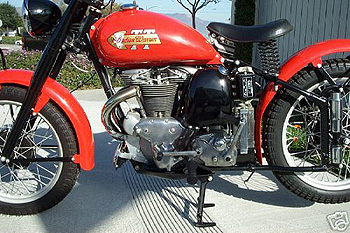 Next are four shots of a nicely restored 1949 Scout.

---
At Mid-Ohio in summer 2014 at the new Polaris-owned Indian company's official display I saw a superb privately customized and modernized late 1940's 440 Scout twin (converted to 500cc Warrior size). It was built by Tony Prust (AnalogMotorcycles.com). This gorgeous and meticulously fabricated bike would appeal to fans of British cafe racers. Actually I was disappointed with the Cafe Racer display in another tent as there were so few English bikes and many of the non-English bikes were not cafe racers.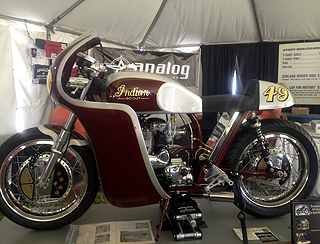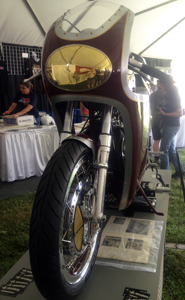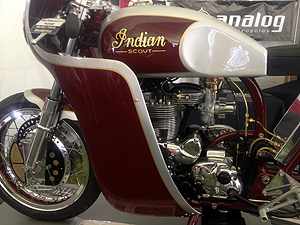 ---
Sammy Pierce Specials
Here courtesy of Cycle World magazine are two 1968 photos of the prototype of Sammy Pierce's P-11 (Scout engine in light, rigid frame, Warrior forks etc.) Just under 40 of these were actually made by Sam in the late sixties, plus a couple with Chief engines. He also made about a dozen of what he called Super Scouts which had hopped up Scout engines in Warrior rolling chassis.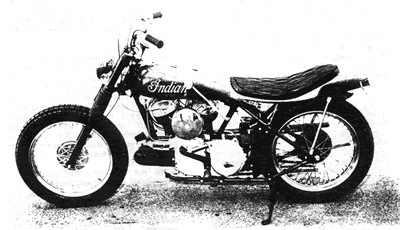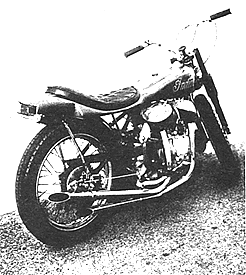 Here is a 1968 Pierce Super Scout from Ebay Jan 2015. The engine of this bike was originally a 500 cc (probably a Pony Scout or ex army model 741) apparently bored out to 600 cc. Note the gear shift lever with the big black knob on the left side just in front of the seat / to the rear of the fuel tank.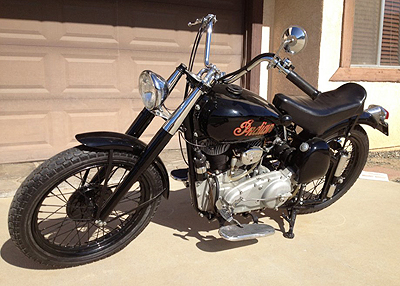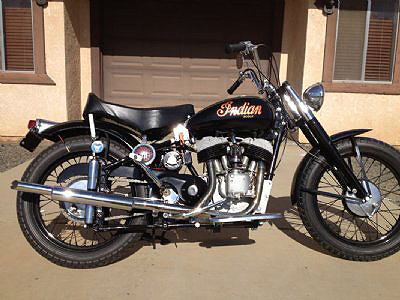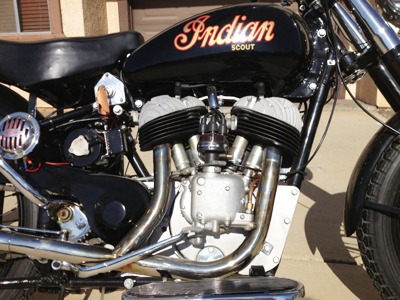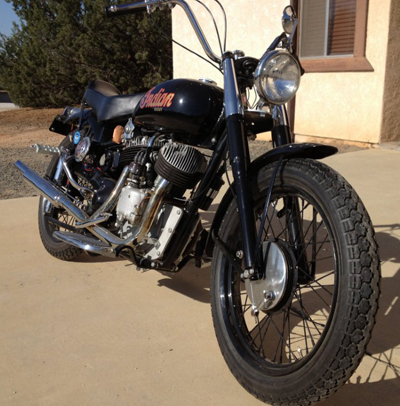 Custom Scout, 1940 engine in 1952 Triumph rolling chassis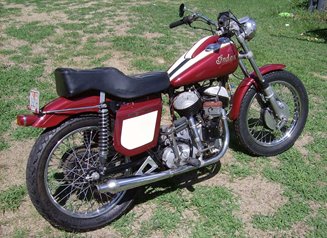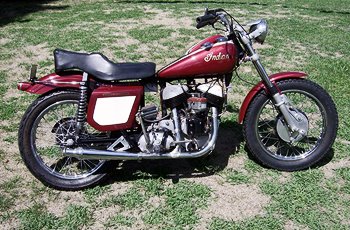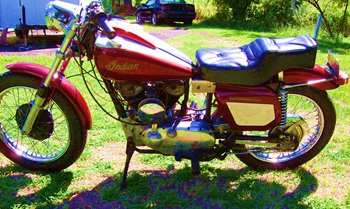 ---
Floyd Clymer's 1968 SCOUT prototype
In collaboration with German Friedel Munch, American Clymer hoped this combination of state of the art chassis (for 1968) and 1940's Scout engine would "set the world on fire". Even as a teenager at the time I thought it was bizarre. It is basically a Munch Mammoth rolling chassis with an Indian Scout flathead engine. Due to projected costs being so high only one prototype was made. It still exists and was sold in late 2009 to a collector / full-time restorer of Indians. The photos below seem to show an alternator mounted to the left of the front cylinder, about 45 degrees up from where the generator went on the original Scouts (in front of the crankcase). Appears the oil tank is under the front of the seat, hence the long oil pipes.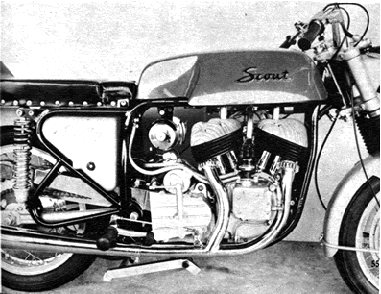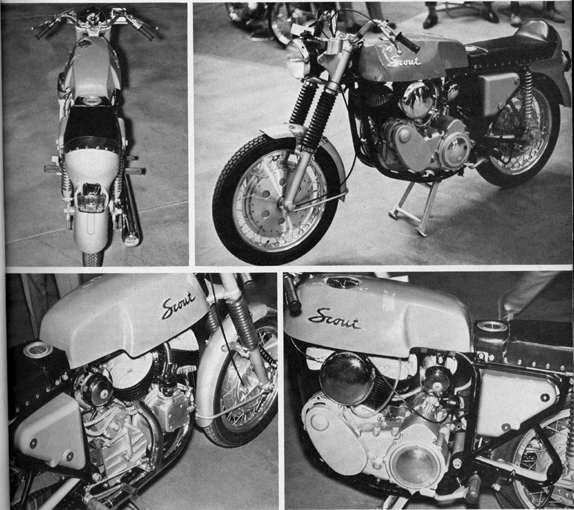 ---
2001 Scouts
Jumping ahead to the beginning of the 21st century, when Indians were being made in Gilroy California and there were Scout models, the following road test of one is reproduced with the permission of the copyright holder CANADIAN BIKER magazine (an excellent magazine I might add.) The issue was March 2001. It is interesting that the practical top speed of the new Scout, despite its large engine (88 CID or 1430 cc, being 130 cc bigger than a Chief of fifty years prior), and weighing only 35 pounds more than a 1951 Chief, was around 85 mph (same as my much heavier 1980 H-D FLT) and the comfortable top speed (due to vibration and handling) was only 60 mph. (105 kph). Progress? One would have more comfort on a old Indian V twin since the flathead engines tend not to vibrate, and the same top speed with a Chief or model 101 Scout. Half a century later and no better performance!
Netx is a 2001 Scout like the one in the road test but with a custom paint job and a small sisiy bar etc. Interesting and eyecatching.




---
2015 and up Scouts
However the new 2015 Scouts are altogether different in terms of reliability, performance, and styling. They are liquid cooled, 1133 c.c. and produce well over 80 horsepower. Unlike the 2001 Scouts above which could barely reach 85 mph, the all new 2015 and up Indian Scout can go almost 90 mph IN SECOND GEAR! For an interesting comparison of the new Scout to a new Sportster see http://www.motorcyscle-usa.com/10/19245/Motorcycle-Article/2015-Harley-Sportster-1200C-vs-Indian-Scout.aspx Site viewers are encouraged to send me photos and info of their Indian Scouts with permission to add them to this site if I feel so inclined.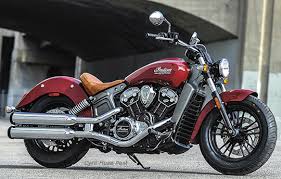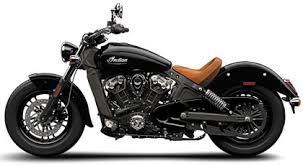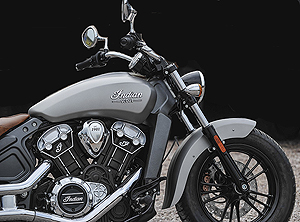 Check out this lovely blue 2019 factory bobber. The Indian folks really know how to produce a bike that looks customized while street legal.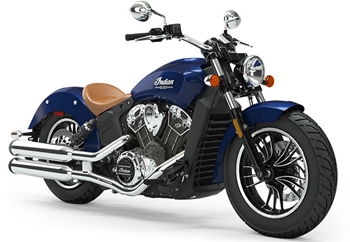 Next from the company's official website are some images of the new Scout FTR models available in 750 and 1200 c.c. if you like the modern look of lattice work welded up frames and seat sticking up at the rear. Whether or not this suits your taste, you have to admit these are about the most unique looking factory bikes available and an interesting blend of sport bike and flat track styling that should appeal to younger riders.
Here is a Youtube video of a guy analyzing the latest Scout and noting how its side profile is almost the same as the old "101" model Scout. This is at 8:10 into the video but to see more old Indian Scouts start viewing at 7 and a half minutes in.


---
Recent Customized Scouts in Australia, Canada and the USA
Here we see a "bobber" version of a standard Scout, probably a 1939. I photographed this in Stouffville, North of Toronto in the mid to late 1990's. The bike has a custom seat, bobbed rear fender, (necessitating relocated rear lamp and licence plate) disc brake on the front, and a 16" rear tire/rim and unknown rear hub/brake. (Plus a non-stock paint job.) The bike looks real fast and racey. I never get tired of oggling this fine example of craft and art. Would the owner please let us know who he is and what mods I may have missed? for that matter, all owners of customized Scouts (classic or contemporary) are encouraged to submit photos and data to me for possible posting in this section. You may email me at randmontgomery at Yahoo dot com .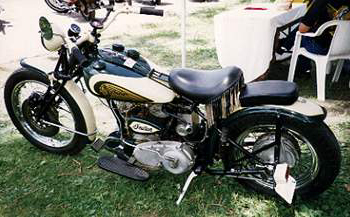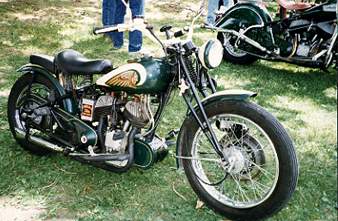 I also have some from Ebay that I will be adding over the next few weeks so check in frequently. First here is a dandy I saw on Ebay , a nicely customized 2016 Scout.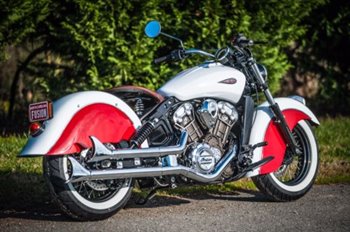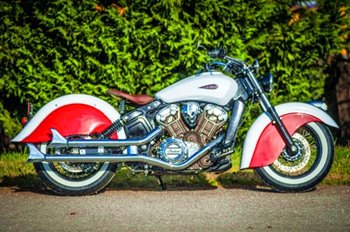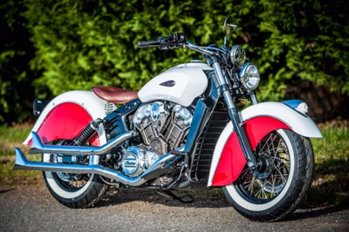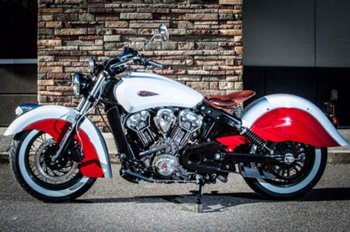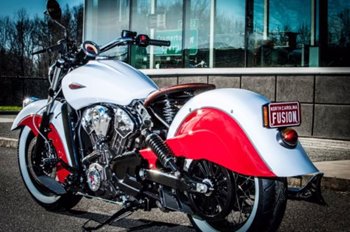 ---
Next from 2014 is an very interesting custom- a guy put an Indian Scout engine into a little Harley-Davidson Hummer (came stock with about a 165 cc engine if memory serves.) This would have been a lot of fun to ride with the reduced weight.

---
Next, seen at the Rhinebeck NY AMCA meet in mid June 2013 was this 1928 Scout 101 customized with electric starter, turn signals, mechanical parts from earlier and later years, 1948 Chief fenders modified to fit, etc. Note all the useful gauges and idiot lights on the dash. This bitza is owned by Butch Baer.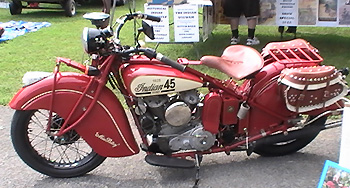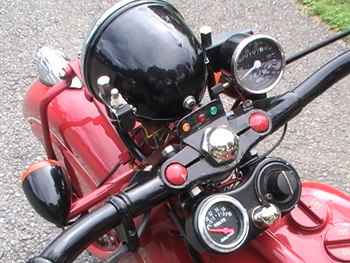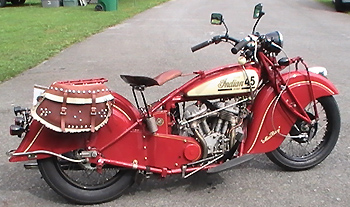 ---
From Jim Parker's Indian business in Australia from about a decade ago we have a prototype of the Apache. This is what I would have expected the new Scout to look like, more or less. (It would've had a modern engine like the 2015 one shown above.) Note the English gearbox for fast gear changes, and the obvious light weight of the bike. This thing must be a blast to ride.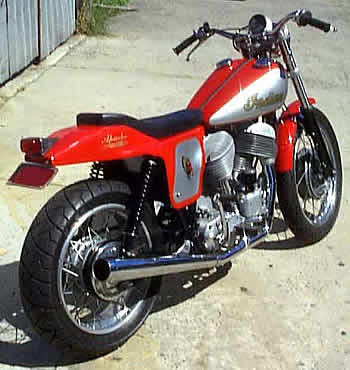 ---
Another source of fast and sweet looking modified old flathead Scouts is James (Jim) Mosher in New Mexico, USA. Check out this 58 CID strocker (about 950 cc) with magneto and British gearbox and 1969-70 Triumph/BSA front brake: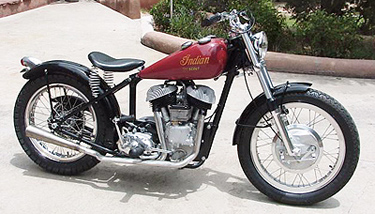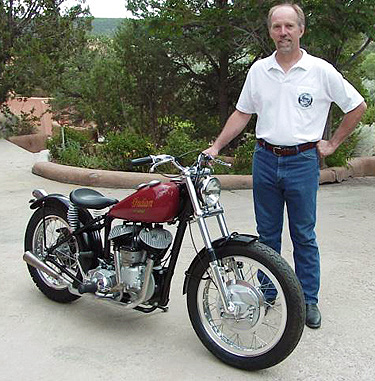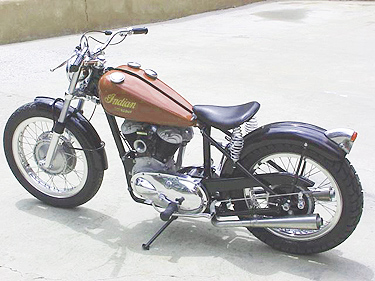 Jim even built a twin engine Scout and raced it at the Bonneville salt flats:


For a closeup of the right side of the engines click on the thumbnail image.




---
Below is a video courtesy of YouTube of guys trying to start one of the Burt Munro Indians - which was based on a 1929 Scout engine but very, very modified. The movie starring Anthony Hopkins "The World's Fastest Indian" was about Burt and his bike. Note in this video Jay Leno is in the crowd and makes a few wisecracks.
Link to the Prewar page of this website covering Scouts 1925-45 including WWII army models: CLICK HERE
Link to my biker and classic car songs: Randy and the Retreads
BTW, after enjoying this Scout site, check out the big brother site, www.IndianChiefMotorcycles.com, The main site includes a history of Indian brand motorcycles 1901 to 2013, hundreds of photos of Chiefs, Fours and English made Indians, features on racers and customs, and rare prototypes. Link to www.IndianChiefMotorcycles.com


This site is not the official site of the makers of the current lines of Indian motorcycles, (V twin Chiefs and Scouts) made by POLARIS INDUSTRIES. They are at www.indianmotorcycle.com


CONTACT to email the webmaster at Scoutmaster